The farmers market is a great place to find the freshest sweet corn, the reddest, ripest tomatoes and the most fragrant, flavorful strawberries. Taste heirloom vegetables and fruits and sample hard-to-find foods like morel mushrooms and white peaches.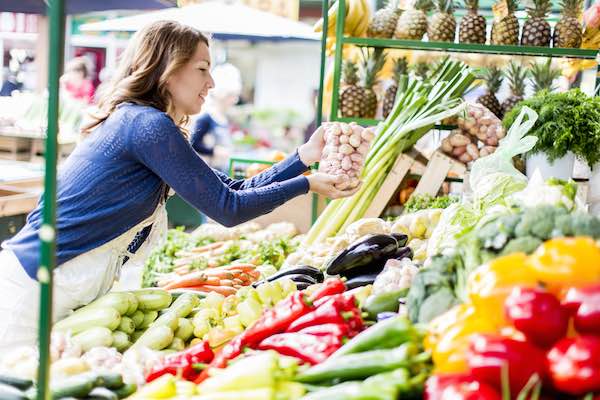 Many vendors offer recipes and cooking tips. Some sell house-made jams and hearth-baked breads, free-range chickens and fresh eggs, and local honey.
As a side note, have you seen the research on dark honey treating coughs in children? Darker honey is hard to find in the grocery store, but it's usually readily available at the farmers market.
The farmers market is a great place to find the freshest produce at reasonable prices. You are buying directly from the grower, so there is no middleman markup. More fresh fruits and veggies in your diet mean better nutrition and wellness for you and your family.
Here in Johnson County, Indiana we have some great markets to discover:
Downtown Franklin Farmers Market
Taylor's Farm Market in Whiteland
Reasons to Try the Farmer's Market
Shop local: Supporting small local business is so important to the economy. Help them out and they will continue to offer their best to you at reasonable prices.

Everything is in season: Nearly everything you will find at a farmers market will be at the peak of its season. If you are really wanting farm fresh blueberries, get them when you see them. They might not be there the next week when you go back!

Organic options: Many small farms only offer organic products. The market can be a great place to get organic choices for less than you'll pay at the grocery store.

Free samples: Vendors will often have out a couple of samples for you to try as you walk by. This can be especially nice if you aren't sure what something is. Ever heard of a plumcot? It's a cross between a plum and an apricot! You might find one at a farmers market.

Expert advice: At each stand you have an opportunity to get information straight from the source. What better person to ask? Find out where the farm is, if the products are organic or how the items should be stored. The farmers are proud of their work and are happy to share with you. The growers will often have cooking tips or share their favorite recipes for preparing their products.
Shopping Tips
Here are a couple of tips to ensure you have a great time at the market.
Bring a shopping bag: Keep in mind you will have to carry all that you buy. A tote bag with handles is the perfect choice. Another option especially if you are bringing the kids along, is to load up the wagon. It keeps your kids contained and gives you a place to sit all your purchases.

Bring cash: Most vendors will only accept cash. This will also help keep you on a budget.

Take a lap first: One of my favorite tips is to take a stroll through the entire market without buying anything. Then go back and make your purchases. You might find four vendors selling sweet corn and you want to get the best deal. When you are only carrying cash you don't want to run out of money before you get the end. You might find the best looking strawberries you've ever seen at the end of the aisle!

Look beyond produce: Many markets offer products other than fresh produce. You might find local honey, homemade pastas and breads, herbs, oils, woodcarvings or even locally spun angora yarn.
Recipes
I've found a couple of recipes to help you use those fabulous finds from the farmer's market.
Farmer's Market Chicken (from Kraft)
1/2 lb linguine

1-1/2 lb boneless chicken

1/2 tsp pepper

2 Tbl olive oil

3 zucchini, sliced

3 yellow squash, sliced

4 cloves minced garlic

1-1/2 cups shredded Italian cheese

1/4 cup chopped fresh basil

1/4 cup parmesan cheese
Cook pasta as directed, omitting salt.

Meanwhile, sprinkle chicken with pepper. Heat 1 Tbl oil in a skillet over medium heat. Add chicken and cook 5-7 minutes on each side until done. Add remaining oil to the same skillet. Add squash and saute 3 minutes. Add garlic and saute 3 minutes.

Drain pasta, saving 1/4 cup of he cooking water. Toss pasta in same pan. Top with chicken, squash, and remaining ingredients.
Heirloom Tomato Salad (from cookingchanneltv.com)
4 large heirloom tomatoes

coarse sea salt

burrata or fresh mozzarella cheese

1/2 cup fresh basil leaves

extra virgin olive oil

freshly ground black pepper
Slice tomatoes and season with the sea salt.

Arrange tomatoes on a platter. Top with cheese and pieces of torn basil.

Drizzle with olive oil and season with salt and pepper.
Overnight Farmer's Market Breakfast Casserole (from Two Healthy Kitchens)
1 lb sweet Italian turkey sausage

1/2 large sweet onion (about 1-1/2 cups)

8 oz fresh sliced mushrooms

2 cloves minced garlic

2 cups shredded hash browns

2 cups shredded cheddar

1 cup diced green pepper

2-3 plum tomatoes, sliced and seeded

1/2 cup chopped green onion

12 eggs

1-3/4 cup milk

1-1/2 tsp dried parsley

1 tsp kosher salt

1 tsp dried basil

1/4 tsp black pepper
In a large non-stick skillet over medium heat, cook sausage, onions, mushrooms, and garlic until sausage is no longer pink and mushrooms have given off some of their liquid, about 10 minutes. Throughout cooking, stir to crumble sausage and break up mushrooms. Drain the liquid.

In a 9×13 pan coated with cooking spray, layer potatoes (there is no need to thaw them), sausage mixture, 1 cup cheese, green peppers, tomatoes, and green onions.

In a medium bowl, combine eggs, milk, parsley, salt, basil, and pepper. Whisk thoroughly to combine, then add remaining 1 cup of cheese and whisk again. Pour egg mixture evenly over other ingredients in baking pan. Cover with plastic wrap and refrigerate overnight. (Alternately, you can bake this casserole immediately.)

In the morning, preheat the oven to 375°F.

Bake casserole, uncovered, for about 60-70 minutes, or until egg in middle is just set and edges are lightly golden brown.

Remove from oven and allow to cool for 10 minutes before cutting and serving.