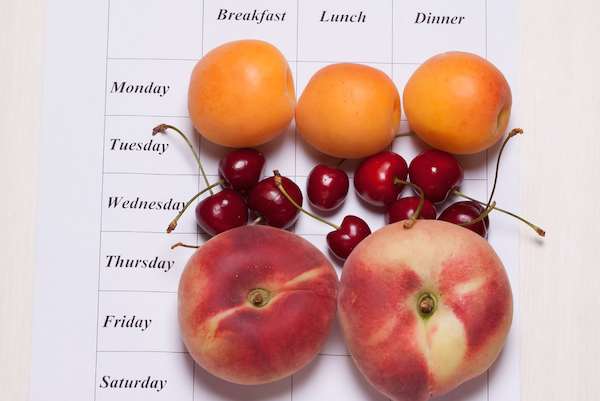 We have all felt and given in to the temptation of swinging by McDonald's or ordering a pizza for dinner after a long day of work. The kids are hungry, you have nothing prepared to eat, and you don't even want to think about bustling around in the kitchen for an hour.
The occasional fast food meal can really save your sanity, but the problem arises when "occasionally" becomes "every other day."
We know you want your family to be healthy and to eat a delicious, satisfying meal together at the end of the day. It's actually possible when you create a plan of attack and make family meal time a priority.
In the past 30 years, the prevalence of childhood obesity has more than doubled among children ages 2-5, has tripled among youth ages 6-11, and has more than tripled among adolescents ages 12-19. The need for healthier lifestyles has never been more urgent. And it is possible, even for busy moms.
Indianapolis marketing professional and mommy Katie Pellerin recently wrote a terrific blog post about how she learned to deal with weeknight meal time. "After months and months of trial and error we have finally come to a point where dinner works for our small, busy, screaming-faced family." Check out her blog where she describes the whole process.
Katie and many like her have found strategies and tools to make healthy meals for their families, and we know you can do it too. Here are 10 tips to help you in your meal planning journey. We hope you find success and health in 2015!
1. Know your cooking style and time limitations.
Take a moment to reflect on how you like to cook and know your limits, so that you don't dive in over your head. It's too easy to set lofty goals and new year's resolutions, only to feel overwhelmed day in and day out and eventually give up. Start with setting realistic expectations for yourself, especially if you have no cooking or meal planning experience. Start small and get some early successes under your belt.
2. Create your plan of attack.
Several of the following tips go into more detail about how to plan ahead, but this point must be underlined. Planning is the only way you'll be able to survive the week with a smile on your face.
Pick a time, like Sunday afternoon, to sit down and plan out the week's meals and grocery lists. It sounds like a simple thing, and it is. Make time to plan and do it consistently so you get in the habit.
Encourage individuals to find recipes that their family enjoys and make them a regular part of the meal rotation.
You can search through cookbooks or use the many online tools and websites available to find recipes that look good. The What's Cooking USDA Mixing Bowl website is a great repository of quick, healthy meals. You can search by meal course, food group, cooking equipment you wish to use, and several other parameters to find the recipes that suit you best. You can even build your own cookbook to save the recipes you use the most. For additional meal planning resources, visit ChooseMyPlate.gov. Here, you can find printables for developing your weekly meal plan and grocery shopping list as well as a wealth of nutrition information.
3. Include more vegetables and fruits into your meals.
Here are a few easy ways to do this:
4. Subscribe to a meal planning service.
Gathering recipes, making lists, thinking of all the things you need for the week, and cooking – there's a lot of time spent planning and executing your family's meals. It may be worth spending a small amount of money on a meal planning service. There are several options here. Feel free to experiment to see which one works best for you. Most of them have a free trial period.
Katie writes in her post about the two she tried:
Once a Month Meals. Basic Idea: spend a whole weekend making a month's worth of food and freeze it. The plans include breakfasts and lunches too if interested.


CookSmarts. Basic Idea: Buy groceries on the weekend. Prep the night before each meal. Cook 20(ish) minute meals each night.
5. Which brings us to the "make ahead meals" method.
This saves so much time and helps you eat healthier. Both of the meal planning services mentioned above incorporate some level of make ahead meals. You may prefer cooking all your meals for the month and storing them in the freezer. Or maybe making a week's worth of meals is more your speed. Or, something in between. The idea is to get all the planning, shopping, chopping and prepping done in advance, so that your actual cooking time is minimal and stress free. This helps you look forward to dinner, instead of dreading it.
You can also do some very simple make-ahead lunches and breakfasts that you can grab and go. Make a large batch on Sunday and enjoy throughout the week:
6. Make snack time a little healthier and fun.
If your kids have an after school junk food habit, you might think about a new house rule: grab any fruit or veggie you want after school, but no junk food. Save treats for the weekend.
At the beginning of the week, slice up apples, carrots and celery sticks. After school, set out fruit and veggies on the kitchen table and offer peanut butter or veggie dips. Berries and yogurt are another healthy, easy option.
You don't have to be Martha Stewart to make fun and healthy snacks for kids, like the one below
You can also make raisins, dried apples, apricots, craisins, and other dried fruit and nuts available for snack times.
7. Buy in bulk.
Buying your meat in bulk and cooking ahead will save time and money. Many meal planning experts will shop once a month at Costco to find good deals on meat and other bulk items, like cereal, cheese, and frozen fruits and vegetables.
Like we said, planning is key! When you have a plan and you can buy ahead, it's a win for your watch, wallet, and waist line.
8. Think about delivery service.
This next tip might not be for everyone, but some busy moms will find it extremely useful. Grocery delivery service is now widely available in most cities. You can plan your meal and order your groceries online, knowing that you'll get a bin full of healthy food right to your door. Johnson County residents can check out Green Bean, and let us know if you have any other grocery delivery options in your area.
9. Enlist help from your partner and older children.
Sharing the load is a must. Divide up the planning, shopping, and meal preparation between yourself and your partner, and even your older children can have a job. When the whole family is involved, it lightens the load for everyone. Bring small children into the kitchen, as well, and make them a part of the process. Kids love to get their hands messy with flour, cracking eggs, stirring something in a bowl, or even just setting the table. It also helps to get input from each member of the family about what they'd like to see on the menu that week.
Cook Smarts has this really cute chart for kids to keep track of new vegetables they try, and then to rate them. It's a fun way to explore new foods and make a game of it.
10. Keep it simple and don't give up.
Remember, success won't happen overnight. You may fall of the wagon along the way, but pick yourself up and start again. Your family's eating habits will follow them the rest of their lives and the journey together is worthwhile. If you need extra support, think about joining a support group or a wellness class.
Source: NIH.gov We Can! program