Your infant's health and safety are your top priorities as a new parent.
You do everything in your power to keep them warm and comfortable. In those early months, however, you must be careful when placing them down for their naps or overnight sleep.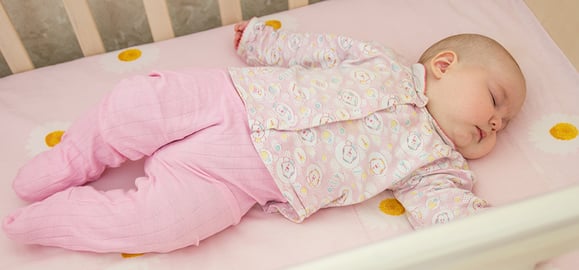 Unfortunately, more than 4,500 infants die each year in the U.S. from Sudden Infant Death Syndrome. The Center for Disease Control says that SIDS is the leading cause of death for infants up to 12 months old.
More SIDS deaths happen between 2 and 4 months – and most tragedies can be prevented. While some causes of SIDS are not fully understood, the American Academy of Pediatrics says that Safe Sleeping precautions best protect infants from these tragedies.
The AAP's Healthy Child Care America program urges parents of newborns to specifically focus on "how" is placed down for sleep and "what" type of crib is being used.
They recommend:
Safe Sleep Positioning
Always place babies to sleep on their backs during naps and at nighttime. Because babies sleeping on their sides are more likely to accidentally roll onto their stomach, the side position is just as dangerous as the stomach position.


Avoid letting the baby get too hot. The baby could be too hot if you notice sweating, damp hair, flushed cheeks, heat rash, and rapid breathing.


Dress the baby lightly for sleep. Set the room temperature in a range that is comfortable for a lightly clothed adult.


If you're worried about keeping your baby warm on those cold winter nights, try using a sleepsack (wearable blanket).


Consider using a pacifier at nap time and bed time. The pacifier should not have cords or clips that might be a strangulation risk.
Safe Sleep Environment
Check that your crib meets safety standards of the Consumer Product Safety Commission (CPSC) and the Juvenile Products Manufacturers Association (JPMA), and make sure it has all the right pieces.


If you can fit a can of soda between the slats of a crib, that means a child's head, hand or foot could get stuck.


If the sides go down, don't use the crib.


Corner posts of the crib should not stick up more than one-sixteenth of an inch. Anything more can be risky.


Check to make sure there are no design cutouts in the headboard or footboard.
Place your baby on a firm mattress, covered by a fitted sheet that meets current safety standards. For more about crib safety standards, visit the Consumer Product Safety Commission's website.


Place the crib in an area that is always smoke free.


Don't place babies to sleep on adult beds, chairs, sofas, waterbeds, pillows or cushions.


Toys and other soft bedding, including fluffy blankets, comforters, pillows, stuffed animals, bumper pads, and wedges should not be placed in the crib with the baby.


Loose bedding, such as sheets and blankets, should not be used as these items can impair the infant's ability to breathe.
The Academy of American Pediatrics also recommends parents learn CPR. It could mean the difference in an emergency.
Johnson Memorial's Pediatric Specialists can answer your questions about Safe Sleeping practices. You can reach them at 317.736.5515.