Those fast forty weeks leading up to the birth of your new baby are thrilling times. There are challenges and rewards, time spent getting ready for your new baby, new emotions, new baby things, and new clothes for mom!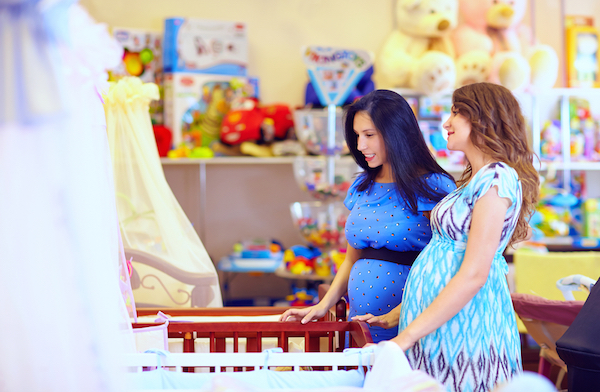 If you love to try on new clothes, spend hours shopping, and put together new ensembles, then you probably have the maternity fashion thing handled.
If you're new to the world of maternity clothing and accessories, we have you covered. We've put together some of the basics you'll need for looking and feeling your best with your new baby bump.
Elastic Wastebands Are Your New Best Friend
As your midsection grows during pregnancy, you will want to give your tummy, rear end, and thighs plenty of room to stretch out. Elastic waistbands come in very handy during the first few months, when you're not quite ready for serious maternity pants with the built in tummy expanding panel.
Fortunately, this is a great time to be pregnant. You can almost get by without investing in strictly maternity fashion. Here are some fashionable stretchy pants, that aren't necessarily maternity-only:
All of these choices can be paired with tunic style shirts, long sweaters, sweater dresses, or stretchy skirts.
The point is to be comfortable and enjoy what you wear, without having to spend a fortune on a whole new wardrobe.
Serious Maternity Pants
Professional attire may require some serious maternity pants. But there are so many nice, affordable options out there for the professional mom-to-be.
Gap has a line of maternity joggers and casual pants, but their maternity dress pants are really nice.
source: gap.com
Shirts and Dresses
A-line shirts and dresses, tunic style sweaters, and long t-shirts are great choices. You can layer a long tank top under a shorter shirt that fails to cover your belly.
Supportive Garments
Many expectant moms may experience lower back pain as their pregnancy progresses. There are many supportive garments on the market that can help support your belly and ease back pain.
Sleeping & Nursing Bras
Women's Nursing Sleep Bra 2-Pack - Gilligan & O'Malley® at Target.
If you plan to nurse your baby, think about purchasing nursing bras instead of maternity bras. These sleeping/nursing bras can work for expectant mothers as breasts grow during pregnancy, and still be useful in the months to come when you are nursing your baby.
source: Target.com
Belly Bands
This band is dual-purpose: It provides light support where you need it and serves as a layer so you can still wear your normal tops. Nordstrom sells the Ingrid & Isabel 'Everyday' Maternity BellaBand® :
"A stretchy tube with a stay-put silicone strap fits around your expanding belly, giving your favorite tops a cool, layered look and allowing you to wear your favorite jeans — unzipped underneath — well into your pregnancy."
source: Nordstrom.com
Support Belt
You may opt for more support, in which case you can pick up a support belt at Walgreens. They carry the Gabrialla Maternity Medium Support Belt. It's adjustable and great for abdominal and back support.
source: Walgreens.com
Support Hose and Tights
You can get support for special occasions as well, with maternity supportive hose. These pretty black tights can be found on Motherhood.com. I don't think we would recommend the high heels, though!
source: Motherhood.com
Outfits and Ideas
Casual to Dressy ensembles:
Baggy sweaters and leggings
Elastic waist shorts and baby doll shirts
Loose dresses, empire waist dresses
Stretchy skirts
Overalls / onesie
Stylish joggers and long shirts
Pea coat
Final tips:
Dress comfortably
Have fun with it and take time to look good. It will help you feel better!
Embrace your bump! Wearing big bulky sweatshirts might cover your belly, but then you feel like you're swimming in your clothes.
If you only buy one expensive maternity item, invest in a good pair of jeans!
Enjoy your pregnancy and stay healthy!
Have any other maternity fashion items or tips that you love? Share them in the comments below!