With Memorial Day just around the corner, the pools will soon be open for business! If you're pregnant and looking for the perfect swimsuit, you may have a few questions about what to wear.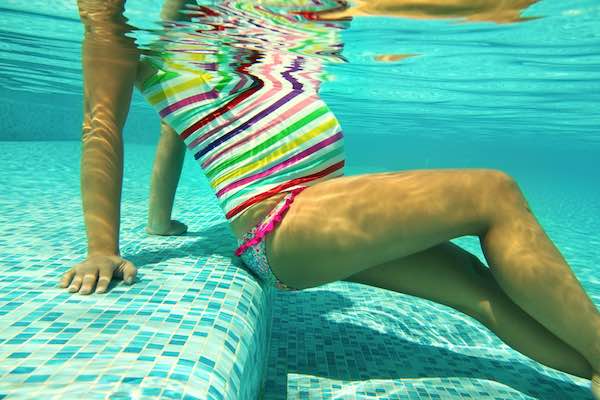 Dressing for your pregnant body is hard enough, but dressing in swimwear can seem like a daunting task. Knowing what to look for and considering your changing body will ensure that you have a flattering suit no matter which stage of your pregnancy you are in. You might have to try on a few styles to find what is right for you. Maternity swimwear can be expensive, but it might be worth the investment.
Besides, swimming is a great way to stay in shape when you are pregnant! Caring for your developing baby and your health are two major priorities at this time. You can do both by enjoying a dip in the pool and getting a little sunshine--just don't forget the shade and sunscreen!
Just like when shopping for pre-pregnancy clothing, you can find maternity swimwear at department stores, maternity specialty stores, or online. Below you will find a few tips to help you find the style that is right for you.
First Trimester
If you are looking for a suit during your first trimester, and especially if this is your first pregnancy, you might not even look pregnant. Your chest may be a little fuller than normal, and you may be a little thicker around the middle, but there probably won't be too much of a bump. Since your breasts are already starting to grow, you will want to look for supportive tops. This is even more important as you progress further into your pregnancy when you will need even more support. You definitely don't want a wardrobe malfunction while you are lounging at the pool.
You might be able to wear your pre-pregnancy swimsuit for a while. If you are wanting to cover up your middle, look for a swing-top tankini. This style might even be a good choice post-partum if you don't feel comfortable showing a lot of skin. This style is great because you can get a lot of use out of the suit! When you are looking at bottoms, look for something with adjustable ties on the sides so you can adjust as you grow. If you can't find adjustable bottoms, you might have to buy a bigger bottom as your middle starts to grow. Here are a couple of nice options that fit this style:
Second Trimester
During the second trimester, your cute little bump will probably start to show. The tips mentioned above in the first trimester section might still work for you! If you have outgrown the tankini styles in the regular clothing sizes, you may want to head over to the maternity section to see the options available there. Read the third trimester tips about maternity swimwear below. Sarongs are really popular right now. A sarong is a great way to cover up in any stage of pregnancy. Sarongs are usually one size fits most, but you can also get a maternity cover up.
Third Trimester
If you are looking for a swimsuit in your third trimester, you will probably need to check out the maternity stores. Some department stores offer a small selection of maternity styles. You may have even better luck if you are willing to shop online.
Your belly and other body parts will be growing rapidly at this point. You'll have bikini options if you like to show off that belly, and you'll have tankini options to cover it up. You might find one piece options, but keep in mind you'll be making frequent trips to the restroom during this stage of pregnancy! Stick with a style you were comfortable with before you were pregnant. Stay true to who you are, and don't change your style just because you are pregnant. Here are a few cute options that might work for you.
No matter which stage of pregnancy you are in when you are looking for a swimsuit, you can look and feel great at the pool. Don't forget the accessories! You can draw attention to areas you want to spotlight and distract from the areas that you don't. Layer up with an embellished cover up, get some large sunglasses, a big chunky necklace, and your favorite magazine or book and hit the pool. Don't forget your sunscreen!