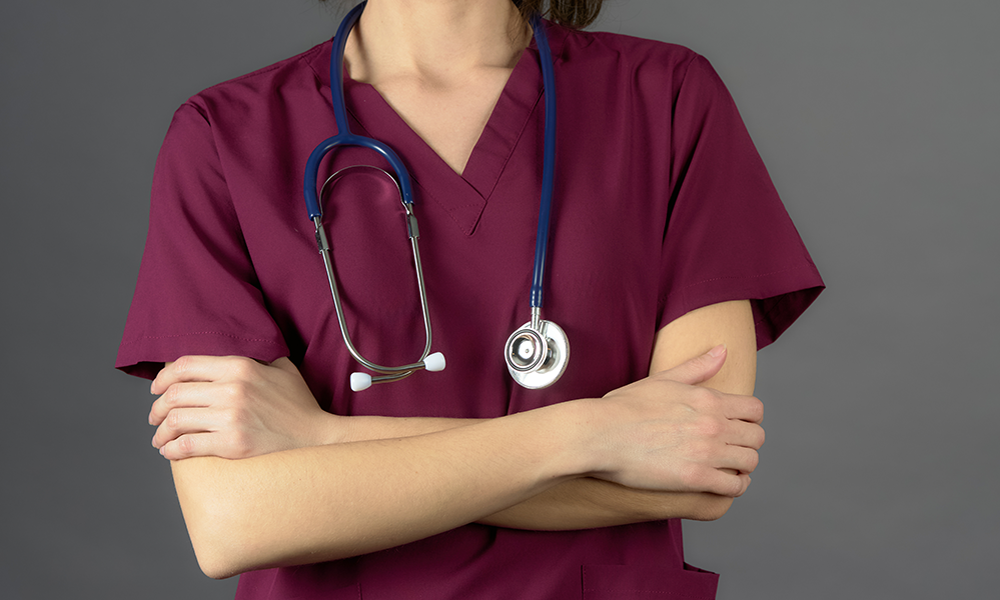 Are you a high school graduate seeking a job that doesn't involve stacking boxes in a warehouse or serving fast food through a window? Have you ever wondered about a career in healthcare? If so, where and how do you begin?
A great place to start is to become a Certified Nursing Assistant - an important position that helps people feel better and presents opportunities for personal and professional growth. At Johnson Memorial Health, a CNA certification is the pathway to becoming a Patient Care Tech.
The demand for CNAs is growing faster than for workers in nearly every other job. The U.S. Bureau of Labor Statistics estimates an increase of 9 percent through 2028. (The average rate of job growth is only 5 percent.) This means that new CNAs will be needed to meet the demand of the aging baby boomer population.
The main role of JMH's Patient Care Tech (CNA) is to provide basic care to patients and assist them in daily activities, which is extremely essential. Compassionate individuals with a deep desire to care for others are needed to fill these positions.
At JMH, Patient Care Techs (CNAs) work under the direct supervision of a Registered Nurse (RN) or Licensed Practical Nurse (LPN). They often use their learned job skills and experience as a chance to continue to the next step in their healthcare career journey.
Here are answers to the most basic questions about being a JMH Patient Care Tech (CNA):
What Does a Patient Care Tech (CNA) Do?
Patient Care Techs (CNAs) at Johnson Memorial Health can help a unit run smoothly, especially for those nurses that have multiple medically complex patients. Their responsibilities include, but are not limited to:
Assists patient with routine activities of daily living: feeding, bathing, ambulating, toileting, skincare, etc.

Orienting patients and families to unit.

Assisting physician/provider and/or nurse with procedures such as lumbar puncture, thoracentesis, central line insertion.

Performs EKG's.

Notifying the physician or RN of any changes in the patient's status.
Direct responsibilities will vary. CNA duties are determined by individual states and Indiana has specific regulations in place that CNAs must follow.
What Qualities Should a Patient Care Tech Possess?
Patient Care Techs (CNAs) first and foremost must enjoy interacting with people on a daily basis in order to find enjoyment and fulfillment in this career. Other attributes should include:
Flexibility
Advanced communication skills
Time management
Compassion
Reliability
Physical Strength
Empathy
Because health care facilities such as Johnson Memorial Health's hospital are open 24/7, there is a great need for Patient Care Techs (CNAs) on all shifts every day of the week. Working different hours can be beneficial for people seeking flexible schedules or to also attend classes.
How is a Patient Care Tech Different From a Medical Assistant (MA) and an LPN?
While Patient Care Techs (CNAs) and Medical Assistants (MAs) do have some similarities, such as working with patients and providing patient care, it is important not to confuse the two healthcare careers.
Both careers assist doctors, nurses, and other healthcare providers with treatments, procedures and tests. Medical Assistants focus primarily on patient assessment, evaluation and assisting doctors with patient care and treatment, whereas Patient Care Techs (CNAs) are generally more involved in direct patient care.
A Licensed Practical Nurse (LPN) requires a license and passing a state-mandated exam. Patient Care Techs (CNAs) on the other hand, only need to obtain a certification in order to practice. LPNs often take classes similar to RNs in order to obtain additional information about health care and the human body. Additionally, there are certain tasks and procedures that LPNs are able to perform that CNAs can not, such as inserting a peripheral intravenous catheter.
What are the Certification Requirements to Become a CNA?
The Indiana Department of Health's Consumer Services and Health Care Regulation Commission oversees the training, certification and recertification and registration of CNAs working in the state. The program ensures that individuals meet both the state and federal requirements for a Certified Nurse Aide (CNA) and are on the Indiana Nurse Aide Registry. Answers to questions about requirements and regulations can be found on their website.
Johnson Memorial Health has partnered with Ivy Tech Franklin to offer free class tuition for someone wanting to become Certified Nursing Assistant. This is the pathway to a Patient Care Tech position at JMH. You can earn a paycheck while getting your training. A one-year agreement to work for JMH is required. Click here to learn more.