If your doctor has ordered a CAT scan for you, you likely have many questions about the procedure. What is a CAT Scan and what should I expect? What will it feel like? How do I prepare for the test?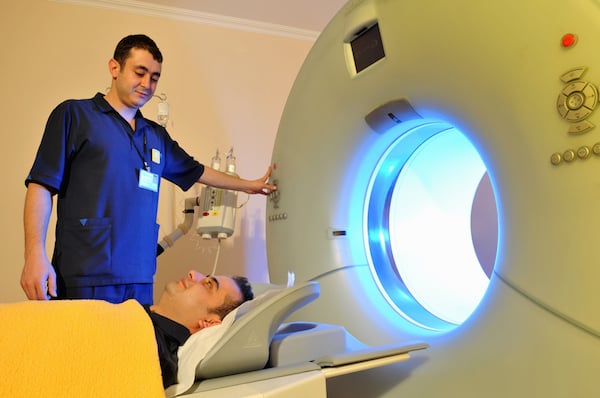 In this post, we answer those questions so you can feel more comfortable on the day of your test.
Let's begin by reviewing the facilities and services at Johnson Memorial Health, then we'll move on to general information about the CAT Scan.
Johnson Memorial Medical Imaging
The Medical Imaging department at Johnson Memorial Hospital offers a variety of advanced diagnostic equipment to help our physicians accurately and quickly see what is happening inside our patients, without so much as scratching the skin. YOU have the freedom to choose your imaging facility and there are many reasons to choose Johnson Memorial Hospital.
Medical Imaging is nationally accredited by the American College of Radiology (ACR) and Healthcare Facilities Accreditation Program (HFAP). We have partnered with Radiology Associates of Indiana for reading and interpreting the imaging tests performed at our hospital.
Physicians at Radiology Associates of Indiana (RAI) are all board certified in radiology. Many RAI radiologists have additional board certifications or are fellowship trained in MRI, nuclear medicine, vascular radiology, interventional radiology, neuroradiology, and/or breast imaging. Visit the RAI website for more information.
Computed Technology (CAT)
A computed technology (CAT or CT) scan uses x-rays to make detailed pictures of structures inside the body. Johnson Memorial features a 40-slice Philips Brilliance scanner that can facilitate everything from common head and abdominal scans to complicated biopsies and pulmonary embolism (a blood clot in your lung) studies. Most scans can be completed in 10 seconds regardless of body part. We have made a promise to Image Gently, an initiative to bring awareness and to reduce radiation doses to children during CT scans. For more information on CT procedures, click here.
Pre-exam Procedure
Upon arrival for your CAT scan, you will be asked to sign the consent form, HIPAA form, and patient information sheet. You may be directed to registration to finish additional paperwork or provide insurance information.
For patients scheduled to receive the contrast injection, a lab draw may be required to test kidney function. If this is required, prior to starting the exam the technologist will walk you to our lab where they will draw a small amount of blood for this test. After this, you may return to the radiology waiting room. Results typically take 30 minutes and the test may begin.
The CT technologist will review your lab results (if required) prior to beginning your procedure to ensure there are no conflicts with the injection. The technologist may also ask further questions regarding your personal medical history.
How Long Will it Take?
The average CT exam can each take about 10 minutes for a non-contrast study and between 10 and 30 minutes on the table for a contrast study. If you are required to drink oral contrast, expect to add about one hour to the exam time (see below).
Do I Have to Drink Barium?
Barium is not used for CT scanning. If "oral contrast" is ordered by your physician, you instead will be instructed to drink two 20 ounce cups of sugar-free fruit punch drink mix. This includes a small amount (about half an ounce) of contrast that will coat your intestines for improved imaging and diagnosing over the course of one hour prior to scanning.
What Do I Wear?
It is recommended you wear loose fitting, comfortable clothing with no metal.
You will be required to remove all metal from your body near or over the part to be imaged prior to the study. This includes, but is not limited to, all jewelry, watches, any clothing with zippers or metal buttons, ink pens, all electronic devices, coins, safety pins, hair ties, and clips.
What Happens During the Exam?
Throughout the procedure, the technologist will tell you exactly what he or she is doing as it is being done. If you have any questions or concerns, feel free to speak up at any time.
After removing all metal, you will be directed onto the CT table and the IV will be accessed (if necessary). You will be on your back for the duration of the exam. There are two or three scans per study, with each scan taking an average of 10 seconds. For some exams, the machine will direct you to hold your breath for those 10 seconds. This reduces motion blurring caused by breathing and will improve your images.
What Will it Feel Like? Will it Hurt?
There is no physical sensation during a CAT scan. You may feel the CT table slide back and forth during the scan. If you are to receive IV contrast, you may feel a warm flush feeling that starts in your head and your throat and moves down your body, a metallic taste or smell, or a sensation that you are urinating. These things last only for the duration of the injection or about 60 seconds.
Preparation
There are no dietary restrictions for exams ordered as "without contrast." For "with contrast" studies, such as Abdomen and Pelvis with contrast, it is requested you do not eat or drink anything six (6) hours prior to the study. You may drink a small amount of water with any medications you need to take.
How Do I Get My Results?
Because we use a fully electronic imaging system, the images are available immediately on our Picture Archiving and Communication System (PACS). For physicians in our JMH network, this means immediate access to your images upon completion of your procedure.
The images are read by a board-certified radiologist and the report is faxed to your ordering physician within two business days. The technologist inspects every image for quality but does not read the images.
Alternatively, you may sign up for My JMH Patient Portal. MyJMH Patient Portal is a secure, private web portal that allows you to access your health information online. Updating your personal information, checking on your visit history, account balances and your scheduled appointments is all available in one place. Results will be viewable for most exams within seven (7) days or less. This allows ample time for your physician to obtain, review and discuss the findings of your exam.