Who doesn't love one of our summer rituals – the local fair? The rides, the food, the games.
For children, a trip to the county or state fair is an experience they will remember forever. They get to pet farm animals, enjoy the amusements along the Midway and eat tasty treats.
While consuming corn dogs or getting a lift on the Ferris Wheel is a lot of fun, it's also wise to be careful. You don't want your day cut short by taking a trip to the local emergency room or immediate care center.
Here are a few fair and carnival safety tips from the Johnson Memorial Health Immediate Care Centers: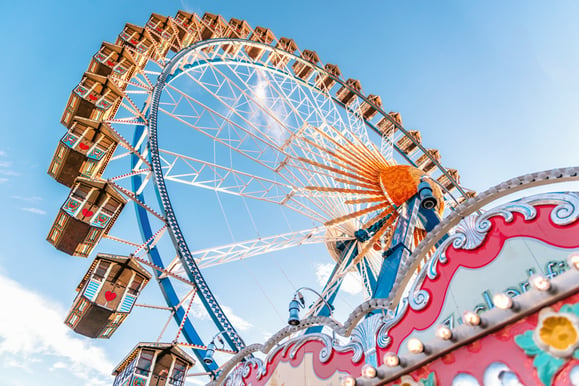 Stay hydrated.
Temperatures can get hot during fairs, which typically are scheduled in the summer. You also may walk a greater distance than your normal day. Soft drinks don't replenish fluids lost while touring the grounds or sitting in a hot area. You should drink plenty of water.
Wear closed-toe shoes.
You will be walking in areas where animals also roam. You also will be stepping onto apparatus for rides or stepping along stoned pathways. You should avoid wearing flip-flops or sandals to protect your feet.
Wash your hands after petting animals.
Fairs often feature farm animals being shown for competition or petting zoos for children to visit. While 4-Hers and fair organizers keep these animals well-groomed, cows, pigs and goats still could have germs that are harmful if ingested. Thoroughly wash your hands with soap and water and use hand sanitizers after petting them – especially before eating.
Be careful how much you consume.
Those deep-fried Oreos look and taste good. Having one may not cause any digestive or health issues. But if you over-indulge on fried foods or sweets (and then ride the Tilt-O-Whirl), you could have a problem. Limit your indulgence, and direct your children accordingly.
Watch your children.
Young ones are mesmerized by the bright lights of a fair. Remember, though, there are lots of moving equipment and people. Keep your kids close and hold their hands if they are very young. They could easily go where they shouldn't and be in danger.
Have a separation plan.
Getting lost at the fair can happen, especially if the crowds are large. Talk to your children about staying put if they get lost. Tell them to look for a police officer or fair official if they get separated from you. Children should carry their parents' names and cell phone numbers in their pocket.
Follow the ride rules.
By law, ride operators are supposed to post rules and instructions for rides. You should read them and review with your children. If they provide safety equipment, use it. If a ride temporarily stops because of a mechanical issue, stay seated and wait for instructions.
Report anything that doesn't look right.
If you notice a maintenance issue or an operator not following procedures, report it to a fair official or police officer. Also, if you notice people causing problems, report them instead of trying to handle the situation yourself.
Know where to find help.
Fair organizers provide maps of their grounds and have signage throughout the area. Before you go or when you first get there, know where to get help in case of an emergency (first aid station, fair office or police stand).
Enjoy your time at the fair!
Monday, July 17 is Johnson Memorial Day at the Johnson County Fair.