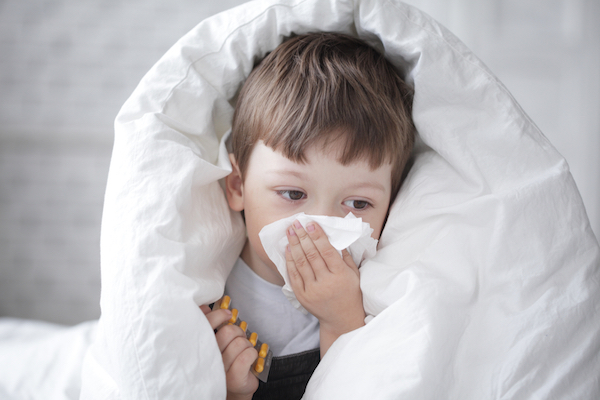 Influenza (the flu) is an infection of the nose, throat, and lungs caused by influenza viruses. There are many different influenza viruses that are constantly changing. They cause illness, hospital stays and deaths in the United States each year.
Older people, young children, and people with certain health conditions
are at high risk for serious flu complications. Each year about 20,000 children younger than 5 years old are hospitalized from flu complications like pneumonia.
Here are some flu basics and steps you can take if you or someone in your family does get sick.
1. Talk to your physician about flu vaccination.
The best way to prevent the flu is by getting vaccinated each year.
Your physician will help you understand the benefits of an influenza vaccination and if you or your children should get one.
According to the CDC, flu activity is expected to be high across most of the country with flu illnesses, hospitalizations, and deaths elevated. Even though the two viruses are not related, the flu will complicate the care of COVID-19.
That is why providers are recommending getting your vaccinations now to protect yourself and others and to reduce hospitalizations and deaths.
2. Flu virus is more serious than you might think.
Flu is unpredictable and how severe it is can vary widely from one season to the next depending on many things, including:
what flu viruses are spreading,
how much flu vaccine is available,
when the vaccine is available,
how many people get vaccinated, and
how well the flu vaccine is matched to flu viruses that are causing illness.
Certain people are at greater risk for serious complications if they get the flu. This includes older people, young children, pregnant women and people with certain health conditions (such as asthma, diabetes, or heart disease).
Flu seasons are unpredictable and can be severe. Over a period of 30 years, estimates of flu-associated deaths in the United States range from a low of about 3,000 to a high of about 49,000 people.
3. Flu symptoms are...
You may have flu if you have some or all of these symptoms:
fever*
cough
sore throat
runny or stuffy nose
body aches
headache
chills
fatigue
sometimes diarrhea and vomiting
*not everyone with flu experiences fever.
4. High-risk groups should contact a physician immediately.
If you have symptoms of flu and are in a high-risk group or are very sick or worried about your illness, contact your health care provider.
Certain people are at high risk of serious flu-related complications (including young children, people 65 and older, pregnant women, and people with certain medical conditions) and this is true both for seasonal flu and novel flu virus infections. (For a full list of people at high risk of flu-related complications, see People at High Risk of Developing Flu–Related Complications).
If you are in a high-risk group and develop flu symptoms, it's best for you to contact your doctor. Remind them about your high-risk status for flu.
5. Look for warning signs of flu sickness in children.
Emergency warning signs in children are:
Fast breathing or trouble breathing
Bluish skin color
Not drinking enough fluids
Not waking up or not interacting
Being so irritable that the child does not want to be held
Flu-like symptoms improve but then return with fever and worse cough
Fever with a rash
6. There are medicines that can help treat the flu.
The CDC recommends the use of antiviral drugs to help treat people who are very sick or who are at high risk of serious flu complications who have flu symptoms. Early antiviral treatment works best.
Antiviral drugs can lessen symptoms and shorten the time you are sick by 1 or 2 days. They also can prevent serious flu complications like pneumonia. For people with a high-risk medical condition, treatment with an antiviral drug can mean the difference between having a milder illness instead of a very serious illness that could result in a hospital stay.
7. Stay home 24 hours after the fever is reduced.
After your fever is gone, stay home for at least 24 hours, except to get medical care or other necessities. Your fever should be gone without the use of a fever-reducing medicine such as Tylenol®. You should stay home from work, school, travel, shopping, social events, and public gatherings.
8. Take precautions to prevent the spread.
If you are sick, stay away from others as much as possible to keep from infecting them. If you must leave home, for example, to get medical care, wear a facemask if you have one, or cover coughs and sneezes with a tissue. Wash your hands often to keep from spreading the flu to others. This also helps prevent the spread of COVID-19.
The CDC recommends these 5 steps to take if you get sick with the flu.
5 Steps to Take if You Get the Flu
Stay at home and rest.
Avoid close contact with well people in your house so you won't make them sick (make a "sick room").
Drink plenty of water and other clear liquids to prevent fluid loss (dehydration).
Treat fever and cough with medicines you can buy at the store.
If you get very sick, are pregnant, are 65 years or older, or are otherwise at high risk of flu-related complications, call your doctor. You might need antiviral drugs to treat the flu.