While undergoing treatment for cancer, you need every advantage for the best outcome.
That includes exercising.
Chemotherapy and radiation often zap your energy, but you can boost your immune system and feel better by working out your cardio system and muscles.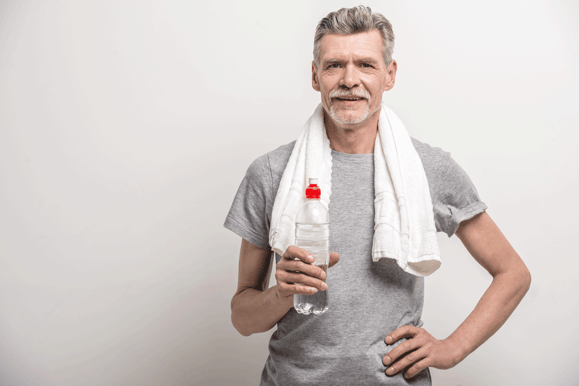 More than 20 studies have shown that exercise helps cancer patients improve their quality of life, lower the risk of recurrence and improve survival chances – compared to patients who are inactive.
The National Cancer Institute cites one study that found that "women who exercised moderately (the equivalent of walking 3 to 5 hours per week at an average pace) after a diagnosis of breast cancer had improved survival rates compared with more sedentary women."
Research has found no harmful effects of moderate exercise on patients with cancer. In fact, studies have demonstrated that those who exercised regularly had 40 to 50 percent less fatigue, the primary complaint during treatment, according to the National Comprehensive Cancer Network.
The American Cancer Society recommends that cancer patients:
Take part in regular physical activity.
Avoid inactivity and return to normal daily activities as soon as possible after diagnosis.
Aim to exercise at least 150 minutes per week.
Include strength training exercises at least two days per week.
The pace of your program and impact on your body should be carefully monitored and adjusted as you go through your treatment. Also, it is recommended that you exercise with a friend or family member for support and help in case of a medical emergency.
Using a treadmill at a gym or taking an exercise class are good ways to workout. There also are alternatives, according to ACS, including:
Walk around your neighborhood after dinner.
Ride your bike.
Mow the grass, or rake the leaves instead of using a blower.
Scrub your bathroom.
Wash and wax your car.
Play active games with kids, like freeze tag, jump rope and the games you played when you were a kid.
Walk a dog (one that can be controlled so that you don't trip or get pulled off balance).
Weed your garden.
Take a friend dancing, or dance in your own living room.
Use an exercise bike or treadmill, or do arm curls, squats, lunges and crunches while watching TV.
Walk to lunch.
Park your car in the farthest parking space at work and walk to the building.
Use the stairs instead of the elevator or escalator.
Get off the bus several stops early and walk the rest of the way to work.
Make appointments for yourself in your daily planner for 10-minute walking breaks.
Form a walking club of co-workers to help you stay motivated to walk during the workday.
Wear a pedometer every day and try to increase your daily steps.
It is important that you ask your oncologist or Cancer Patient Navigator about exercise benefits and risks before you begin. Often, these healthcare providers can map out a program of cardiovascular and strength activities.
The Johnson Memorial Health Cancer Care Center can provide information about exercising during cancer treatment by calling 317.736.3346.