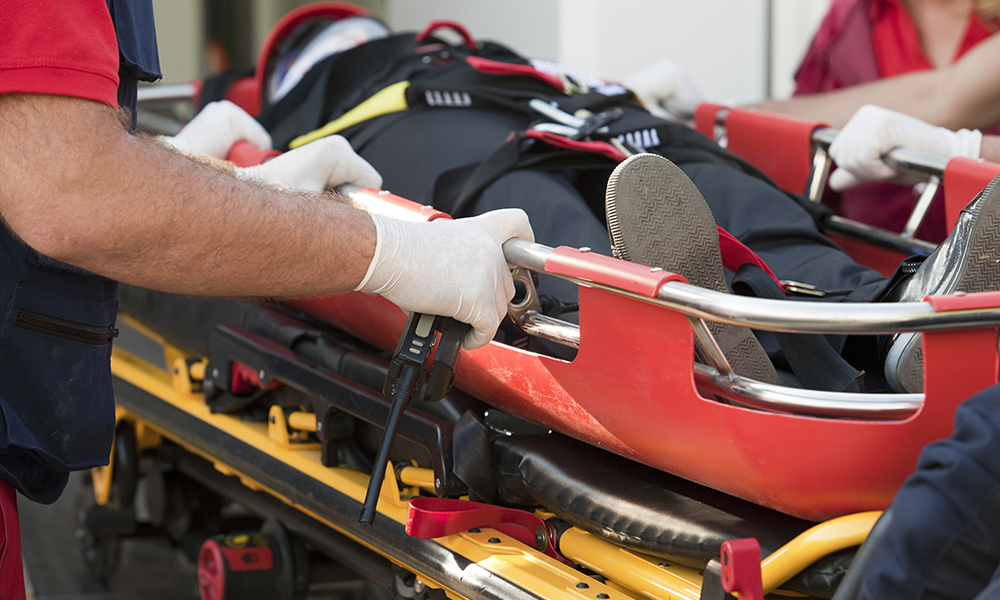 Paramedics and Emergency Medical Technicians are the first to assess someone who is ill or injured and provide treatment.
That is why these highly skilled providers are such an important part of the Johnson Memorial Health system, especially during the recent COVID-19 pandemic.
"The field of EMS attracts some of the most passionate and caring people out there. Especially now, with how this virus has swept over our nation. When people call 911, regardless of their illness or injury, we respond," says Anthony M. Lauinger, Johnson Memorial Health EMS Coordinator and Paramedic Firefighter at the City of Franklin Fire Department.
The birth of the EMT was considered to be in 1969. Before that, it was fire departments with no true medical guidance or funeral homes who picked people up to drive them to the hospital rendering little medical aid. Around 1972, the first paramedic curriculum was developed.
"We see people on the worst days of their lives, entering uncontrolled and sometimes unsafe settings just to help. Now more than ever I am proud to be a Paramedic. I am excited to see where the field of EMS grows, and to help develop it along the way," says Lauinger.
Here are 10 interesting facts about EMS professionals:
Being an Emergency Medical Services Professional ranks among the most dangerous job. They are exposed to dangerous situations and illnesses each and every day. A Center for Disease and Prevention report found emergency medical services (EMS) personnel in the U.S. had an estimated fatality rate of 12.7 per 100,000 workers, more than twice the national average. Most of the deaths were due to accidents while responding to an emergency call and injuries or infections related to patient care.


Emergency Medical Services is responsible for the care and rapid treatment of about 25 to 30 million patients annually in the United States.


In total, the Emergency Medical Services industry spends nearly $7 billion each year on patient care and treatment in the United States.


Without brave and caring volunteers, many areas across the United States would not be able to receive emergency treatment from EMS professionals. Nearly 50 percent of all EMT-Basics are volunteers.


Becoming an entry-level EMT (or EMT-B, for Basic) requires between 120 and 150 hours of schooling, but acquiring the skills to become a paramedic requires many more—typically around 1,200 to 1,800 additional hours.


There are a vast number of roles that Emergency Medical Services Professionals are involved in including, ambulance drivers, helicopter pilots and other medical occupations.


There are four nationally defined levels of Emergency Medical Services Professionals in the United States: Emergency Medical Responders (EMR), Emergency Medical Technicians (EMT), Advanced Emergency Medical Technicians (AEMT) and Paramedics.


There are approximately 700,000 EMS workers nationwide.


The work environment for EMTs and paramedics is described as "physically strenuous and...stressful," considering the unexpected nature of each day's work and the likelihood of tending to life or death scenarios.


Numbers of Emergency Medical Services Professionals has been in decline since the events of September 11, 2001.
Each May, Johnson Memorial Health celebrates EMS Week to honor the dedication of those who provide the day-to-day lifesaving services of medicine's front line. We recognize EMS and all that its practitioners do for our community.
For more information about becoming a paramedic or EMT, contact your local fire department.