Information is power when you are taking on cancer.
Knowing the details of the disease and treatment options, and getting support beyond family and friends help you deal with your decisions and emotions.
The Internet is full of information about cancer – from research to fundraising. Many can be extremely helpful answering questions and providing comfort during the journey. Some legitimately raise money for research and assist patients during treatment and recovery.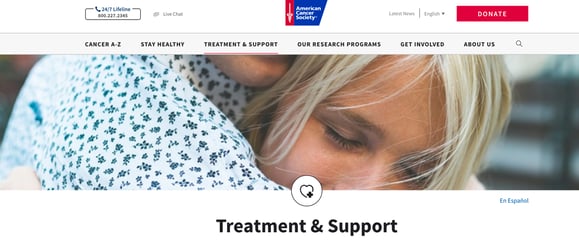 A few, unfortunately, take advantage of patients and their families. They either provide scientifically unproven information or try to solicit contributions that do little to fund research or help people.
Here are 5 of the many legitimate online resources that cancer patients and their families and friends can find helpful or supportive.
Cancer.org: The American Cancer Society operates a website that is robust with information about treatments, research and support. The section on Understanding Your Diagnosis is especially helpful for patients who just received news about their disease. CharityNavigator.org gives this organization 97 percent rating for transparency and accountability.
Cancer.net: Operated by the Conquer Cancer Foundation of the American Society of Clinical Oncology, this site provides information about types of cancer and navigating cancer care. The Coping With Cancer section talks about managing emotions, talking with families and friends, hearing the oncologist's perspective and caring for loved ones. CharityNavigator.org gives the Foundation a 97 percent rating for transparency and accountability.
CancerCare.org: This site is supported by a national organization dedicated to providing free, professional support services including counseling, support groups, educational workshops, publications and financial assistance to anyone affected by cancer. All CancerCare services are provided by oncology social workers and world-leading cancer experts. CharityNavigator.org gives the organization a 92 percent rating for transparency and accountability.
CancerSupportCommunity.org: This nonprofit believes that all people affected by cancer should be empowered by knowledge, strengthened by action and sustained by community. CSC provides direct service delivery, research and advocacy. Through an international network of affiliates, their website offers social and emotional support for people impacted by cancer, as well as a community of support available online and over the phone. CharityNavigator.org gives the organization a 96 percent rating for transparency and accountability.
CaringBridge.org: Patients, family or friends can create a free website that is a personal health journal. The sites are operated by a nonprofit organization, which guides the user through the setup process and helps with updates. Visitors are provided with an individual's personal website address and password can read updates on the individual's condition or post messages to the family as needed. Visitors also can make donations to support the nonprofit service. CharityNavigator.org gives this nonprofit a 100 percent rating for transparency and accountability.
Cancer Patient Navigators also can provide important information and getting you the resources you needs during treatment. They can be helpful in finding useful and credible online information.
Johnson Memorial Health provides a Cancer Patient Navigator service through our Cancer Care Center.