Remember the phrase: "It's a good kind of hurt"?
That sums up the benefit of Sports Massage Therapy. Not always for the faint of heart, a deep tissue rubdown can be painful at first. However, it does good things to help your body recover.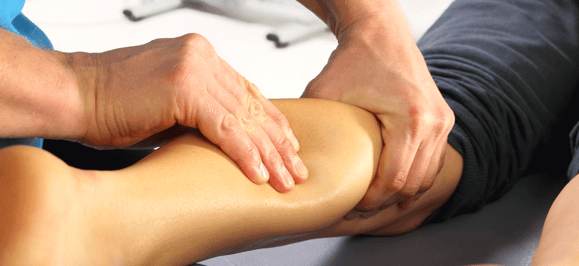 Sports Massage Therapy can be used to improve athletic performance, speed recovery, improve conditioning and maintain peak performance, according to the American Massage Therapy Association. That's why many professional, collegiate and high school athletic programs integrate Sports Massage into their training programs.
Sports Massage Therapy greatly differs from soft and gentle massages offered to reduce stress and help you relax.
Here's how:
Pacing
Often fast-paced, Sports Massage Therapy can be administered before or after competition or a workout. It is designed to increase flexibility and reduce soreness – and can be customized by the sport or athlete's body type.
Technique
The Certified Sports Massage Therapist administering the massage uses techniques to get blood flowing back to the heart and to deliver fresh oxygen and nutrients to the muscles and tissue. The therapist applies heavier pressure on layers of muscles and deep tissues. The goal is to remove knots and tension within the muscles. The tissue movement also removes waste products and toxins – with help of lots of water following the massage.
Physical Benefits
While a Sports Massage can leave you sore (sometimes for a day or two), the Journal of Sports Medicine and Physical Fitness says the therapy directly benefits the muscles and integrated cardiovascular system. "The increased and enhanced blood circulation helps to relieve muscle tension, reduce soreness and make for a faster recovery. Then, the relaxed muscles can experience an increase in range of motion and flexibility."
The website Livestrong.com writes that Sports Massage Therapy also can prevent or relieve Delayed Onset Muscle Soreness. "According to the American College of Sports Medicine, delayed soreness typically begins to develop 12 to 24 hours after the exercise has been performed. DOMS may produce the greatest pain between 24 and 72 hours after the exercise has been performed." Sports Massage Therapy prevents delayed onset muscle soreness by encouraging blood and lymph flow throughout the body, preventing muscle fatigue.
Psychological Benefits
Besides helping the body recover physically, Sports Massage Therapy also prepare you emotionally for your next competition or workout. During the release of tight muscles, the body increases dopamine and serotonin levels. This reduces stress, tension and anxiety by activating your parasympathetic nervous system.
Therapist Qualifications
The American Massage Therapy Association says that Sports Massage Therapist must graduate from a Basic Massage School. Each state has a different number of hours of education that are required to become a professional massage therapist. In partnership with some of the top sports massage educators, medical doctors and sports science experts in the U.S., AMTA has developed a comprehensive series of continuing education courses to enhance the skills and understanding of the science of Sports Massage Therapy.
If you have questions about the benefits of Sports Massage Therapy, ask your orthopedic or sports medicine specialist.