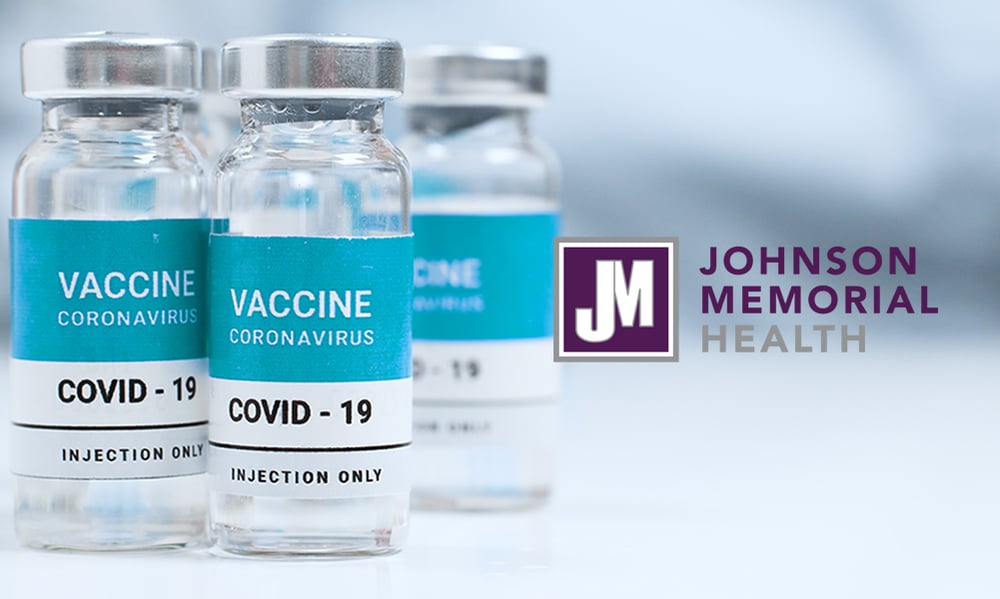 Johnson Memorial Health is currently the selected location in Johnson County for administering the COVID-19 vaccinations. This is being coordinated by the Johnson County Department of Health and the Indiana State Department of Health.
Here are answers to the most common questions about the program.
Who is currently eligible to receive the vaccine?
Any Hoosier age 16 and older is now eligible to schedule a vaccination appointment, as are long-term care residents, first responders (fire, law enforcement, emergency medical services, reservists and volunteers) who have in-person contact with the public and licensed and unlicensed healthcare workers who have in-person contact with patients or infectious material in any healthcare setting. This will change as Indiana follows its Allocation Plan.
How do you schedule your shot time?
To register for a COVID-19 vaccination at JMH, please visit the Indiana State Department of Health website or dial 211. Please do not call the Johnson Memorial Health switchboard.
Where do you go at JMH for your vaccine once you have scheduled an appointment?
When arriving at Johnson Memorial Health's Franklin campus for your vaccination appointment, please park in Blue Lot H off West Jefferson Street and enter through the old emergency department entrance, Building 1125 W. See Map
What safety protocols are in place when getting the shots at JMH?
JMH and the Johnson County Health Department are taking significant precautions to keep people safe during their vaccination appointment. This includes wearing personal protection devices, staying socially distant and administering the shots in a safe location that is regularly cleaned. Persons receiving shots also must wear masks, have their temperatures checked and answer screening questions.
Can you have someone from JMH meet you outside at your car to administer the vaccination, if you are a high risk person and don't want to be inside the hospital?
No, not at this time. It is important that you come into the hospital so that you can be under observation following your vaccination.
Do you have to pay for the vaccine when it is administered?
No. The vaccines are free.
What vaccine is available or being used at JMH? Do we have a choice of available vaccines?
We are administering both the Pfizer and Moderna vaccinations. You will not be able to choose; the determination will be based on the supply at hand.
After my vaccine has been administered, how long do I have to stay at JMH to check for possible adverse reactions?
We ask that each person stay 15 minutes for observation.
Can a COVID-19 vaccine make me sick with COVID-19?
No. None of the COVID-19 vaccines contain the live virus that causes COVID-19. So a COVID-19 vaccine cannot make you sick with COVID-19.
What happens if I have an adverse reaction?
Problems from vaccination can happen, but they are rare. The Center for Disease Control and Prevention says some people have experienced severe allergic reactions — also known as anaphylaxis — after getting a COVID-19 vaccine. If an allergic reaction happens, you will be treated with epinephrine or EpiPen. The benefit of having your vaccine at JMH is access to excellent health care providers for treatment of a reaction if needed.
What are the typical side effects of the vaccine are JMH seeing so far?
You may have some side effects, which are normal signs that your body is building protection. These side effects may affect your ability to do daily activities, but they should go away in a few days. Common side effects are pain and swelling at the shot site, and possibly a slight fever, chills, tiredness and headache. Contact your doctor or healthcare provider if the redness or tenderness where you got the shot increases after 24 hours or if you side effects do not seem to be going away after a few days.
If I have a caregiver due to my health condition, can I bring him or her along to my vaccination appointment?
Yes, your caregiver may accompany you.
Can the caregiver also get the vaccine even though he or she might not meet the current criteria?
Professional caregivers are eligible for vaccinations at this time. However, family members who care for someone 70 or older are not. You may inquire about being put on a waiting list in case any vaccines are unused at the end of the day.
What should I bring with me to the vaccine appointment?
You simply need your photo ID and proof of your appointment. You should bring an employee badges for first responders to show you are eligible.
When do I make the appointment for the follow up vaccine?
Health providers administering your vaccine will schedule your appointment for your second dose.
After I have received my vaccination, do need to still follow CDC recommended guidelines for being in the public - such as wearing a mask and staying socially distant?
Yes. Not enough information is currently available to say if or when CDC will stop recommending that people wear masks and avoid close contact with others to help prevent the spread of the virus that causes COVID-19. Experts need to understand more about the protection that COVID-19 vaccines provide in real-world conditions before making that decision. Other factors, including how many people get vaccinated and how the virus is spreading in communities, will also affect this decision.