Pregnant? There's an app for that. Not sure what to expect when you're expecting? Your smartphone can help. Pregnancy-related apps are a booming market. According to research done by ByteMobile nearly half of mobile users that have health-related apps are using pregnancy-related apps. There are a variety of apps available--apps that help you monitor your growing belly, what you should or shouldn't eat while pregnant or even morphing a photo of you and your significant other together to see what your baby will look like. Some apps are obviously more fun in nature than others!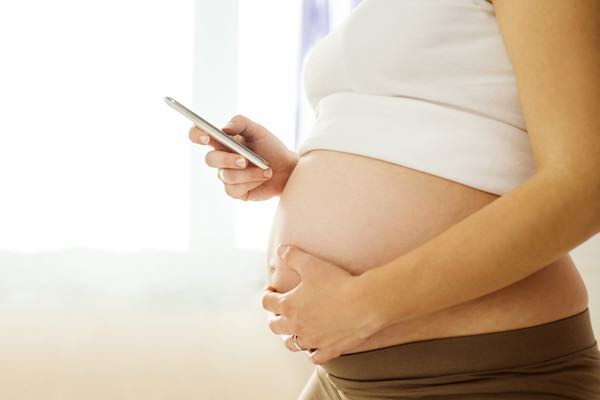 The apps are meant to be a supplement to the medical care you are already receiving. If you have questions or concerns about your health, please speak to your doctor.
If you search for other apps, thousands will come up. This post will list a few, but there are many more that will work for you. It's a matter of convenience. Most people have their phone with them at all times. Having helpful information right at your fingertips can make the unknown seem a little less daunting.
Period Tracker
This app is free for Android and iPhone devices.This user-friendly app was created by GP International LLC. Lots of apps predict your next period, but this one takes it a step further. After your log your start and end date, the app calculates the average start date and predicts your next period, ovulation and most fertile days. There is also an area to make notes and jot down questions to ask your doctor.
WebMD Pregnancy
This free app from the trusted WebMD website has a variety of information whether you are online or offline. The physician-reviewed information is relevant and up to date. The app offers week by week details and informative articles about foods, exercise, labor and delivery. There are also checklists, a place to make notes for your doctor, a journal, slide show maker, kick counter, weight tracker and contraction tracker.
Baby Bump Pregnancy
This is another free app for all devices. It counts down the days until your due date, notifies you of which week you are on in your pregnancy and lets you know symptoms you might be feeling week by week. This can be reassuring to know that other expectant mothers have the same heartburn, moodiness, varicose veins or bloating that you have been experiencing. The Baby Bump app also shows you diagrams and illustrations for those who are a little more visual.
Besides being informative, this app allows you to connect to others using the app in its own sort of social network. You can communicate through message boards for more information, ask questions or even share pics of you growing baby bump. For a fee, you can upgrade to the pro version which comes with a baby name planner. The pro version is also available for Apple and Android devices.
Sprout Pregnancy Essentials
Sprout was rated Time.com's top rated app. It has a free trial, and then you have to purchase to get more. This app has really neat 3-D graphics of your baby with many helpful tips written by doctors, no matter which stage of pregnancy you are in. Sprout has advice and week by week tips during your pregnancy. In addition, Sprout has a weight tracker, baby kick counter, contraction timer and schedule to help you keep track of doctors appointments and notes to discuss with your doctor. Some helpful tips include what to pack in your hospital bag and the basic essentials you'll need to bring your baby home. Each day you'll also receive relevant information from Parents magazine. You can even post content to Facebook to keep those excited friends up to date on your pregnancy.
The premium paid versions offer interactive 3-D models of your baby and the ability to post notes to Facebook. The premium version is also ad free.
My Pregnancy Today
This free app is a very popular download. It was created by Baby Center and offers all the information you need at your fingertips. The app has a kick counter, contraction timer and information for each day of your pregnancy. You can also connect with other moms who share your due date and share photos of that growing belly.
Foods to Avoid When Pregnant
This inexpensive iPhone app by LitCharts is pretty straight forward. There is a full list of foods to avoid when pregnant. From there, each food group is broken down a little further and you can find out how food should be prepared. You'll find tips on how to safely cook and eat your eggs and how to order your steak when you're out to dinner. For Android users, The Pregnancy Food Guide app is very similar and has the same low price of $0.99.
Baby Names
While this app isn't really medically relevant, it does provide some insight into naming your baby. Baby Names gives name meanings, pronunciations and the popularity rating of more than 30,000 names. In the app, you can also save and rate your favorite names as you go. This basic app is free for Apple and Android users. There are some upgrades if you pay for the extended version of the app.
What are some of your favorite apps related to new motherhood or pregnancy? Share them in the comments below!